Le Corbusier Houses in Stuttgart
Part of a transnational UNESCO World Heritage Site of the Modernism
The Triennial of the Modernism wants to establish a network of German World Heritage Sites of the Modernism in the medium term - Le Corbusier's houses in Stuttgart will be a new associated partner from 2022. They are part of the Weissenhofsiedlung built in 1927 and, as a World Heritage Site, are part of a transnational series of 17 ensembles by the architect Le Corbusier in France, Belgium, India, Japan, Argentina and Switzerland.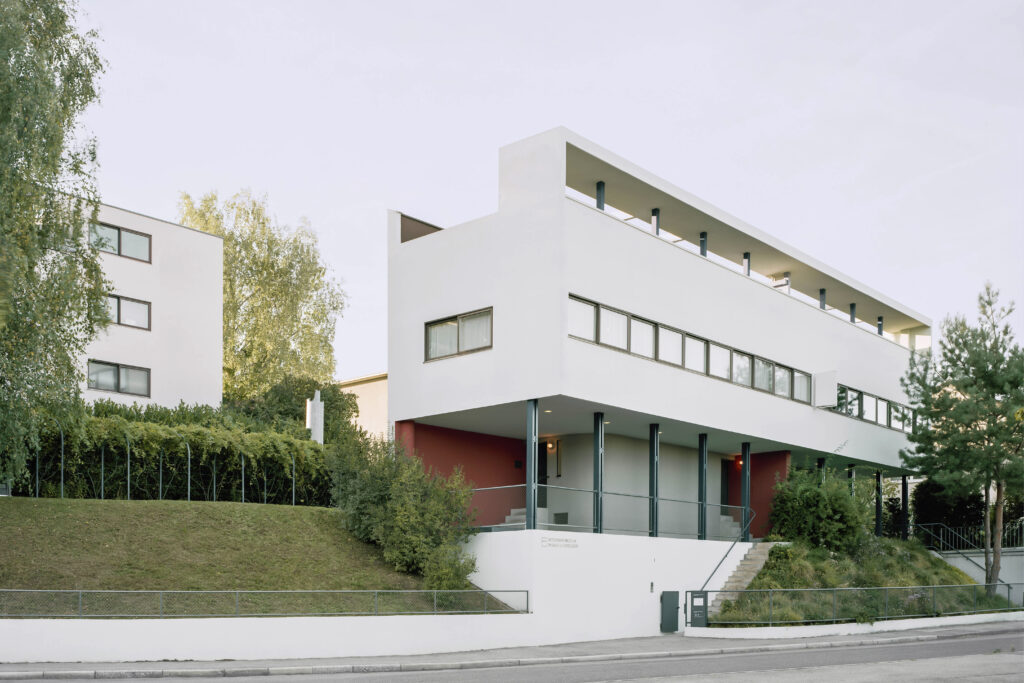 Architecture and offers
The Weissenhofsiedlung was built in 1927 as part of the building exhibition "Die Wohnung", organised by the Deutscher Werkbund and financed by the city of Stuttgart. During the exhibition, 33 houses can be viewed from the outside and inside. Afterwards they will be rented out.
17 international architects under the artistic direction of Ludwig Mies van der Rohe are participating in the show. On display are 33 innovative and future-oriented houses for modern, healthy, affordable and functional living. Among the participants are architectural greats such as Walter Gropius, Hans Scharoun and Le Corbusier.
Together with his office partner and cousin Pierre Jeanneret, Le Corbusier builds a single-family house and a semi-detached house. Both are programmatic buildings dedicated to flowing space and variable living. They are models for Le Corbusier's programme "Five Points to a New Architecture", which he publishes for the first time on the occasion of the Weissenhof exhibition. 
Soon after the exhibition, the Weissenhof houses were altered and converted. It was not until the 1980s that renovations in keeping with the preservation order were successful. Finally, in 2006, after a second, extensive renovation, the Weissenhof Museum opens to the public in Le Corbusier's semi-detached house. It shows an exhibition on the history of the settlement. The second semi-detached house can be visited in the room layout, colour scheme and furnishings of 1927. 
Further information and programme offers
Contact
Michaela Jehle
Press and Public Relations
Weissenhofmuseum im Haus Le Corbusier
Rathenaustraße 1, 70191 Stuttgart
Tel : +49 (0)711-2579187
Social media
---
Program for the
Triennial the Modernism
How to build? How to live? How to live? Werkbund housing estates 1927-1932 in Europe
Do, 13. Oktober 2022 ab 19.30 Uhr
Feierstunde zur Verleihung des Europäischen Kulturerbe-Siegels
mit Nicol Razavi MdL, Ministerin für Landesentwicklung und Wohnen Land Baden-Württemberg
und Oberbürgermeister Dr. Frank Nopper, Landeshauptstadt Stuttgart
Podiumsgespräch und Ausstellungseröffnung
Wir bitten um Anmeldung unter: info<at>weissenhofmuseum.de
October 14, 2022 to January 8, 2023
Exhibition in the Weissenhof Workshop in the Mies van der Rohe House Stuttgart
Freunde der Weissenhofsiedlung e.V. / Weissenhofmuseum im Haus Le Corbusier