Völklingen Ironworks
UNESCO World Heritage Site of Modernism in Saarland
The Triennial of the Modernism wants to establish a network of German World Heritage Sites of the Modernism in the medium term - From 2022, the industrial monument Völklinger Hütte in the Saarland, not far from the border with France, will be a new associate partner*: The World Cultural Heritage Site Völklinger Hütte is the first monument from the heyday of industrialisation to be included in the UNESCO World Heritage List. Today, the former ironworks is a fascinating place of industrial culture, art and nature.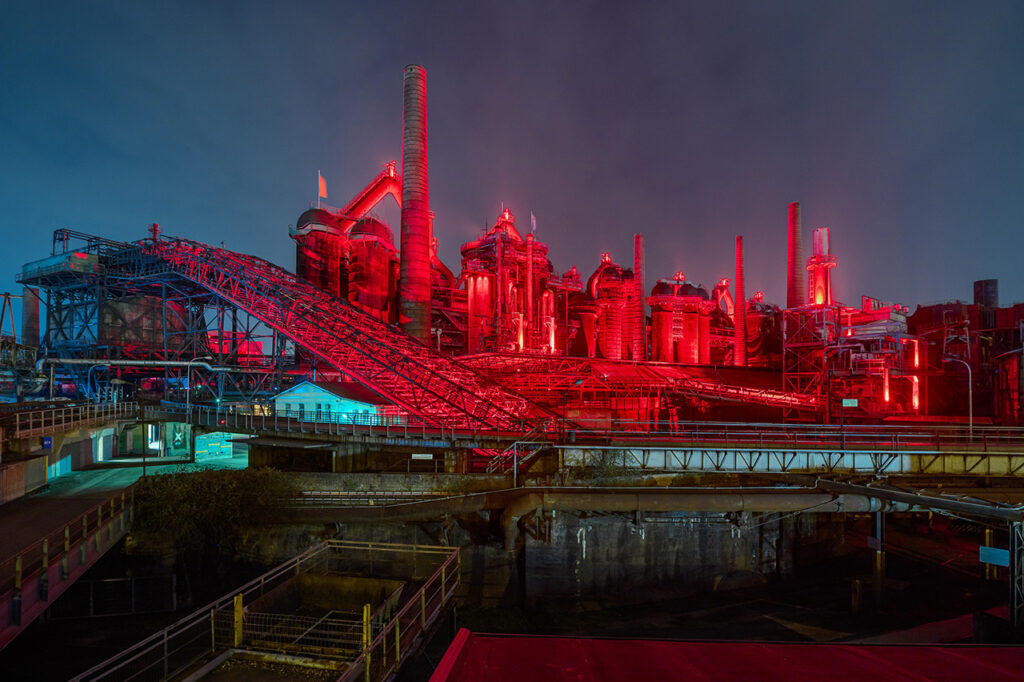 Architecture and offers
The Völklingen Ironworks reflects the age of high industrialisation in a unique way. Its history is exemplary for the history of Germany and the world in the 19th and 20th centuries. Several kilometres of visitor trails lead through the UNESCO World Heritage Site - the only ironworks of this era to have been completely preserved - to milestones in the history of technology such as the unique inclined ore lift, the enormous blower machines, the blast furnace group and the sintering plant.

In addition, the World Heritage Site inspires as a place of culture, open to all the arts. The interplay of a wide variety of auratic industrial settings, both indoors and outdoors, with exhibitions, theatre, concerts or performances, is what makes it so appealing.
Culture is joined by nature: Paradise, which emerged from the former "hell" of the coking plant, fascinates through the reconquest of parts of the site by diverse flora and fauna.
As a central site of the Anthropocene - the age in which man has massively changed his environment through technology - the Völklingen Ironworks is virtually predestined to focus on the light and dark sides of this global development - as a place of history, present and future at the same time. That is why Future Labs are also an integral part of the multifaceted overall programme between technology, art and nature.
Further information and programme offers:
Contact
Dr. Armin Leidiger
Communication / Press, Media
World Cultural Heritage Site Völklingen Ironworks
Rathausstraße 75-79, 66333 Völklingen
Tel. +49 (0)6898-9100-151
Social media